What Can I Do?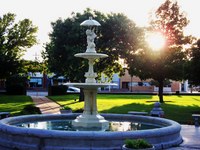 St. John is famous for its downtown city square, fountain, and small-town appeal where children ride their bikes to school, the store or park and horse and riders strolling the streets is not an uncommon sight. The three-tier fountain in the center of the city square is a draw for many. The fountain stands in the center of the town square, which is surrounded by an ornate block wall.  The square also boasts a small scale Statue of Liberty, as part of the Boy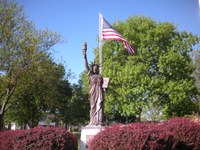 Scout's 40th anniversary theme, "Strengthen the Arm of Liberty."
On the north edge of St. John is a recreational area including Brown Memorial Park, a large park that features picnic shelters, playground equipment, walking path, tennis courts, basketball court, skate park, baseball diamond, swimming pool, football field and track.
St. John is home to the St. John Science Museum (aka Hood 's Haven). The museum was recently featured in American Profile magazine and attracts visitors from schools, groups and individuals across the Midwest. A collection of electrical displays depict developments in electricity and sound through the nation's Industrial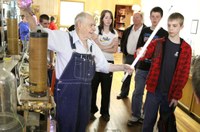 Revolution. Museum curator, James Hood, demonstrates phenomenon from the Tesla's coil and Jacob's Ladder to a hydrogen-powered engine.
The City boasts a progressive library in the Ida Long Goodman Memorial Library, with high­ speed wireless Internet, Wii Station and Community Room. It is one of only three combined community/school libraries in the state and has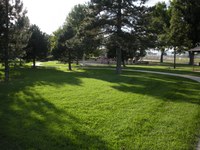 been designated a 5-Star Library five years in a row.
St. John is one of the southern gateways to Quivira National Wildlife Refuge, a wetland refuge of significant importance to a variety of migrating waterfowl. QNWR is the winter home for several Bald and Golden Eagles. It offers a wide range of opportunities for birdwatchers, hunters, fishermen and nature lovers of all ages. It is also the southern starting point for the Wetlands and Wildlife National Scenic Byway that passes through QNWR and Cheyenne Bottoms in Barton County.

Yearly Events
St. John Jubilee
St. John Jubilee is a Memorial Day weekend celebration that has been a community event for decades. At this event, the community traditionally welcomes summer with alumni homecomings, entertainment, street vendors, carnival rides, a street dance and other special events.
Rally in the Valley
Rally in the Valley, a motorcycle gathering sponsored by Eden Valley Church and held every August, attracts riders and non-riders from across the state.

Victorian Tea Event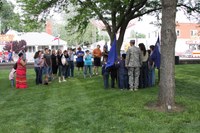 In the fall, the Lucille M. Hall Museum offers a Victorian Tea Event showcasing different themes and interests of the early pioneers of the area. Miss Hall was a teacher and world Traveler. The museum is carrying on her passion of introducing children to the cultures outside their community. The museum houses a small educational theater and historical displays.

Christmas Magic
Each December, Christmas Magic brings horse-drawn carriage rides, Santa Claus, a community soup supper and business open houses.