About St. John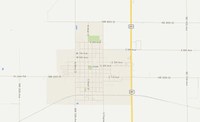 Geography
St. John is a part of Stafford County, located on 281 Highway between Great Bend and Pratt, and three miles north of Highway 50 between Hutchinson and Dodge City.  The city has a total area of 1.88 square miles.
Nearby Colleges and Universities

Barton County Community College
Pratt County Community College
Hutchinson Community College
Dodge Community College
Fort Hays State University
Wichita State University
Economy
Workforce
The median income for a household is $31,500 and the median income for a family is $41,761.  About 9.1% of the population is below the poverty line.

Housing and Commercial Growth
Median Home Value $63,968
Total Housing Units - 684
Percent Home Ownership - 77%
Median Rent  - $438/month
Census Information

As of the 2010 census, there were 1,295 people, 534 households, and 336 families residing in St. John. The racial makeup of the city was 92.4% White, 0.2% African American, 1.2% Native American, 0.8% Asian, 4.2% from other races, and 1.2% from two or more races. Hispanic or Latino of any race were 15.1% of the population.
The median age in the city was 42.7 years. 25.9% of residents were under the age of 18; 7.4% were between the ages of 18 and 24; 20.5% were from 25 to 44; 26.2% were from 45 to 64; and 19.9% were 65 years of age or older. The gender makeup of the city was 49.4% male and 50.6% female.