Business Directory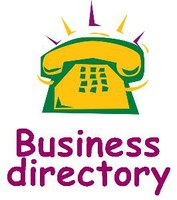 Adams, Brown, Beran & Ball
American State Bank
Big Bend Irrigation
Bob's Hauling Inc.
Central Kansas Land Title Inc.
City of St. John
Clark Barber Shop
Wayfarers Inn
White's Foodliner
CTS, LLC Blending Surfaces
Davis Electrical, Inc.
Delp Tree Farm
Dollar General
Don Knappenberger Law Office
El Parralito
Farm Bureau
Farmer Clinic
Fisher Service Center
GS Motor Co.
Gill Chiropractic
Gilly's Retail Liquor
Golden Belt Telephone Association
Hampel Oil
Harter Auto
Hood's Haven
Ida Long Goodman Memorial Library
IOOF Lodge
K D J Cleaners (Darla VanDoren)
Kanza Coop Farm Store
Kanza Coop Tire/Service Shop
Kanza Coop Short Stop/Sandwich Shop                                                                                                                              
Kenwood Plaza
LJ & J Automotive
Leisure Homestead
Macias Lawncare, Inc
Macias General Contractor
Mansel Concrete Construction Inc.
Minnis Chapel Inc.
Pueblo Nuevo
Raindrop Repair
Rebekahs
Rod Lyons Law Office
Rosenberg Dental
S & S Tire
Sabrena's/Time For You
Sandyland Shepherd's Center
Second Chances Thrift Shop
Shear Designers
Squeak's Club, Inc.
St. John Lumber
St. John National Bank
St. John News
St. John Skating Rink
St. John Swimming Pool
Stafford County Health Dept.
Stafford County Trash Service
South Central Pawn
Sunflower Senior Center
Sunflower Trailers
Tiff Willinger Lawn Service
Triple Creek Outfitters
Unified School District #350
USD #350 Recreation Commission
Victoria's Artistic Interior's
U.S. Post Office Western Area Central Plains #680
If you have a business in St. John and you're not listed here and you'd like to be, please contact City Hall at (620) 549-3208.
Disclaimer:  This page is for information only.  A businesses's listing on this page does not guarantee quality, compliance with laws, or endorsement by the city.