Clerk
Contact Information
Jamie Getty, City Administrator
sjcc@gbta.net
(620) 549-3208
Fax (620) 549-6188

Office Address
St. John City Hall
115 E. 4th Avenue
St. John, KS 67576
(The northwest corner of the intersection of 4th Ave and Broadway)
Mailing Address
P.O. Box 367
St. John , KS 67576

Days and Hours
Monday - Friday
8 a.m. - 5 p.m.
Closed for lunch from 12:30pm-1:30pm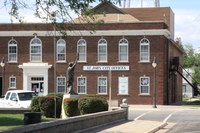 The City Clerk is responsible for the day to day maintenance and preservation of the official city records and is responsible for management of various financial records involving grants and City projects. This position serves as the record keeper of a number of city boards and commissions including the City Council and Planning Commission.

To fill out an employment application with the City of St. John, please stop by City Hall at 115 E. 4th Avenue (at the northwest corner of the intersection of 4th Ave and Broadway) or you may print it off from the link on this website under "I want to, apply for, job opening" .  If you have any questions, please call (620) 549-3208.